---
About Sadanari & About this page
08/24/97 updated
---
To all of rock'n roll crazies in the world

In Japan, most of the private sites were only written in Japanese. I think they give up 99% possibilities of the internet.

When I decided to make my site, also I make up my minds to write English pages. And then I rowed out to the Net Ocean. It doesn't a matter of quantity. To the world or not to the world, it is important, I think. And I chose 'Japanese rock'n roll showcase' for the material for my site. It must be a subject to be written in English to the world.

Please don't blame me for my ability of English. Because this site was not written with my intelligence, but written by the power of rock'n roll. Alas ! I wonder if I will be able to make myself understood in English.

I'm looking forward to hearing from you.
Rock'n roll control.


Hiroshi Sadanari

From TOKYO to the WORLD,
08/24/97
---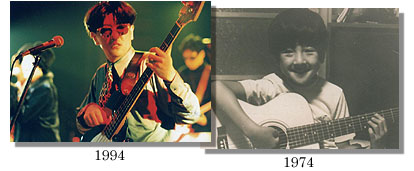 Written and designed by Hiroshi sadanari


| | | |
| --- | --- | --- |
| Date of birth | : | Nov. 15th, 1965 |
| Born in | : | Shinagawa-ku Tokyo |
| Brought up in | : | Zushi city Kanagawa |
| Live in | : | Shinagawa-ku Tokyo |
Play the rock bass and the jazz baritone sax
grapple with a method of jazz now
crazy about music and movies


This site is LINK-FREE and all rights reserved FREE.
But please send me an E-mail if you use.



And if you have any comments, suggestions or additions, please send them to me. Thanks!




---